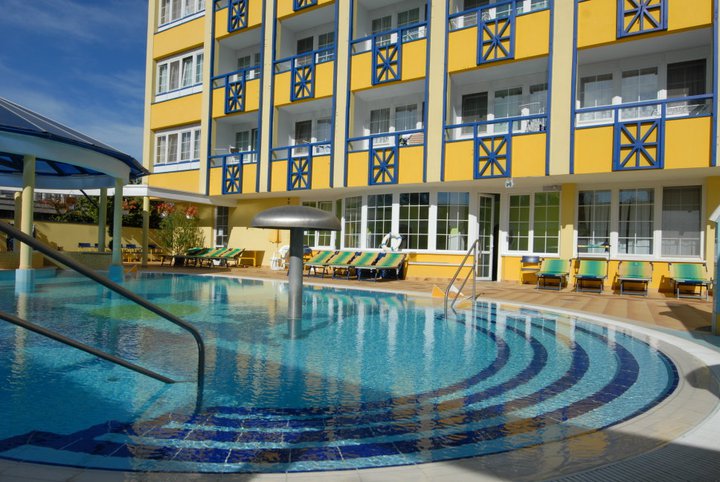 Rudolf Hotel*** – Hajdúszoboszló
4200 Hajdúszoboszló, Mátyás király sétány 23.
Hotel Rudolf*** is located in the Plain, Hajdúszoboszló which is 200 kms from Budapest, 20 kms from Debrecen.The elegant hotel has a Mediterranean atmosphere. famous of its thermal water, on the walkway about 2 minutes from the thermal bath. Our hotel has the disposal of 37 double-bedrooms, 5 rooms with three beds, 6 apartments and 2 suites.
They are equipped with balcony, colour TV, phone and minibar. The bathrooms are equipped with hydro massage – bath cabin and hair dryer.
 The city hajdúszoboszló is located 200 km far from Budapest and 20 km far from Debrecen. It can be reached by car ( nearby are the highway nr. M3 and M35, and the mainway nr. 4) by train also (the city is on the line between Budapest and Debrecen), by airplane (near Debrecen is a national Airpot of Debrecen).
In the hotel there are 37 double rooms and bathrooms, 6 apartments, 5 family rooms with 3 beds, and 2 suits. In the street rooms are air conditioners, in every rooms there are TV-s, phones, minibars, and hairdryers. The family rooms are with 3 beds and with tubs (on request cots, baby tobs, high chairs). The hotel has an own garden, bar, and elevator, and they have a luggage room.
Health and Wellness – The hotel give bathrobe. You can also enjoy TB-backed treatments and refreshments from spa water! There are two thermal pools ( the degrees of the pools: 34 °C and 36 °C). In the wellness part of the hotel high educated masseurs work all day. There are outdoor-pools in the summer.
Restaurant – The hotel has an own restaurant, wich meals are typical hungarian and traditional. On the terrace you can enjoy the work of the open kitchen, the drinks of the bar, and in the high season there are live music in the evening.
Programs for children – above the oppotunity of the family rooms, the hotel offers the further followings : On requiest there are plays for them, in the hotel there is playsroom, and outdoor pool waits for the children.