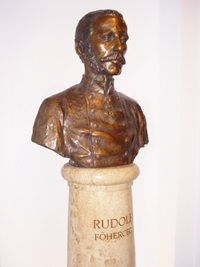 Allow me to briefly introduce the services and activities of our organisation, the Rudolf Aid Association. The Association has existed for 137 years as a non-govermental organisation carrying out social activities. Anyone over the age of 14, whether Hungarian or a foreign citizen, can become a member. First among our services is the allotment of social and welfare services and an emergency aid system. Our other main activity is the operation of our 3 star hotels in the most famous spa cities of Hungary – Hévíz and Hajdúszoboszló – and we are waiting for our guests also at our cosy Pension properties in Vonyarcvashegy (On the shores of Lake Balaton) and in the scenic town of Parádfürdő in Northern Hungary. In the capital, Budapest, the clubhouse of the Rudolf Aid Association also features comfortable, well equipped apartments next to the Eastern Railway station for our quests whether travelling as individuals or in a group. We can ensure preferential prices for our members. In the hotels, we have the most up-to-date medical and therapy departments. We ensure for our existing and future partners a wide range of other travel and hotel services and can also organise transfers, sightseeing programs and other travel services.
Rudolf SPA Hotels offers to you WELLNESS & SPA Hotels with Medical Services:
Hotel Erzsébet *** can be found at the heart of Hévíz, right next to the entrance of the world-famous spa. The 47 nicely-furnished rooms, three of which have living-rooms as well, offer comfortable accommodation for guests. Each of the rooms has an air-conditioner, a private bathroom, a colour television, a radio and a telephone. A safe and mini bar are also available int he room. Cars can be parked safely in the underground parking lot of the hotel. Our hotel has an own  therapeutics section equipped with the most modern technologies. Besides modern specialist (internal medicine and rheumatologist) treatments, traditional Hévíz treatments (mud packing, electric and climate therapy, therapeutic massages) and modern SPA, Thalasso, Wellness and recreational treatments, eastern massages (Shiatsu, Ayurvedic, Yumeiho) also contribute to the recovery and health preservation of our guests. ( erzsebet@rudolfhotels.com  ;  www.erzsebethotelheviz.hu   )
Hotel Rudolf*** is located in the Plain, Hajdúszoboszló which is 200 kms from Budapest, 20 kms from Debrecen.The elegant hotel has a Mediterranean atmosphere. famous of its thermal water, on the walkway about 2 minutes from the thermal bath. Our hotel has the disposal of 37 double-bedrooms, 5 rooms with three beds, 6 apartments and 2 suites. They are equipped with balcony, colour TV, phone and minibar. The bathrooms are equipped with hydro massage – bath cabin and hair dryer.  ( rudolf@rudolfhotels.com  ;  www.hotelrudolf.hu   )
We were honoured by your offer co-operation with us with our hotels.
Mr Sándor ALBERTI
Acting Chairman